After the memorable achievement of the PD 1.0 specification, I tried hard to convince SDMI people that the group should work on developing interoperable specifications that included specific technologies beyond the screening ones, or the entire initiative would be meaningless. My efforts were in vain and, at the Los Angeles meeting at the beginning of the 7th of July 1999 meeting – the very meeting that approved PD 1.0 – representatives of the different industry constituencies expressed one after the other their hostility to my proposal. 
That was a rough awakening. Probably thinking that representatives of large media and technology companies would work together to create a practical alternative to MP3 had been a naïve mistake on my part, but it was no time for recrimination. At that time I thought that SDMI would remain a milestone in the transition of media from analogue to digital but, unless its membership changed their mind, SDMI would at most be remembered as a precursor of the transition, not as the organisation that would actually manage to create the bright new world. Still I wanted to create the new world, even if the SDMI route was no longer available.
I had very intense summer holidays in 1999 and I will try to go back over the steps that led me to a formulation of a new strategy.
Looking back at centuries of history, artists have always endured a constant tension between their capability of expressing art and their ability to satisfy two basic desires: to be recognised as artists producing valuable work and to be remunerated for them (not necessarily in this order). Middlemen have always found a role propping up both desires of artists and they and their proxies have invented all sort of ways to promote artists and all sort of technologies to create, promote, deliver and enable consumption of their creations. Middlemen have often provided practical answers to the artists' tension but, at the same time, have rendered the artists more and more dependent on the middlemen. 
With the arrival of digital technologies and the internet, people at first thought that creation, distribution and consumption of content would become radically easier and middlemen could be dispensed of. Soon, however, they discovered that these were hollow thoughts because digital technologies simply allowed the transformation of a piece of art into bits that were easier to distribute, but did not help solve any of other problems, certainly not of their remuneration.
The vision that I had when I agreed to be SDMI's Executive Director was to empower anybody in the value chain and give them the possibility to talk to the owners of some other bits representing some interesting content, negotiate and make deals with them so those bits could be legitimately "used". Depending on usage conditions, users could add something valuable to the bits whose rights to use they had just acquired and make something new and, hopefully, more valuable than the individual constituent parts. 
I wanted to make this process possible for all players in the value chain and let this "bit partnership" extend without limits. The more people could add bits, the more valuable the bit combination would potentially become. I did expect that, as the network of "rights to the bits" became more complex, so would the technologies making this possible. 
This idea of value chain where users add value is of course not new. If you replace the word "bit" with "content", all that I have said above has happened for centuries if not millennia and evolved in ways that were originally not codified. But the physical world added constraints many of which can go away if digital technologies are used. 
In 1996 I first had the idea of experimenting with the creation of a marketplace of digital AV content for professional users. The European Commission funded ACTS ATMAN project was driven by the idea that, with the increasing number of content offerings that Service Providers (SP) would make over the multiplying number of delivery systems, there would be a need for more efficient means to acquire and stock up content than had been available with a reduced number of SPs handling analogue content. The purpose of ATMAN was then to define mechanisms to trade digital audio-visual material, develop and integrate hardware and software subsystems in support of the trading mechanisms so defined and test the full supply-handling-delivery chain by getting the involvement of real users. 
Fig. 1, taken from the project, was used a reference for its work.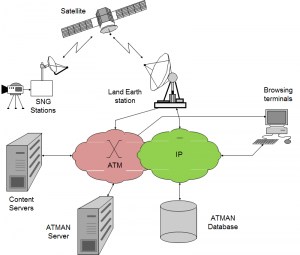 Fig. 1 – The ATMAN model
Content possibly created in remote places, say by a news gathering team, would be uploaded to the ATMAN server via satellite (or, if available, the fixed network) and the corresponding descriptions uploaded to the ATMAN database. Prospective buyers would search the latter for interesting descriptions and preview pieces of content stored in the former and a transaction could occur if the content, its terms of use and the price were found interesting. Note that in 1996-97 ATM was still considered a technology that companies could make plans on for new developments. In the ATMAN case, however, ATM would only be used to upload and deliver AV content while IP would be used to search available content in the ATMAN database.
The thoughts of my 1999 summer holidays built on both the SDMI and ATMAN experience. The first opportunity to present them was offered by the WIPO International Conference on Electronic Commerce and Intellectual Property in September 1999. Then came the MPEG meeting in Melbourne in October 1999 where I presented my thoughts in a set of slides to the membership. The message extended the ATMAN idea with two constraints removed. The first was that the trading should not just apply to the Content Provider-Service Provider relationship and the second was that all types of digital content, not just AV, should be supported.
The slogan that I coined at that time was to build an infrastructure supporting electronic commerce of digital content to create a future where the (then) 6 billion humans would be enabled to take on any conceivable role that exists in the value chain: content provider, value adder, packager, service provider, consumer, reseller, etc. To make my message concrete, my slides advocated the need to create a "big picture" and make an inventory of the technologies underpinning the life cycle of media in the new digital environment. 
The big picture would be used to create a "Multimedia Framework" where the different technologies would find a place. In the framework one would see which technologies already existed and which were missing. The latter would be developed by MPEG, if the necessary expertise existed. Otherwise, an appropriate competent body would be found and convinced to develop the missing technology. Lastly, and very much in line with its tradition, MPEG would attempt to integrate the technologies into a coherent whole. My presentation also suggested a name for this project: MPEG-21, from the century that was soon to begin. 
The proposal was well received and Keith Hill, then with MCPS, the UK organisation in charge of music licensing, a long time participant in MPEG and an active participant in SDMI where he chaired the Functional Requirements (FR) WG, was assigned the task of converting my general ideas into a practical proposition. At the following Maui, HI meeting in December 1999, MPEG was already in a position to ask SC 29 to approve a proposal for a new project. The plan was to have a Technical Report describing the Multimedia Framework as Part 1, followed by a number of other Parts with normative value. 
A workshop was organised at the following March 2000 meeting in Noordwijkerout. The goal was to promote understanding of the project – inside and outside MPEG – with a comprehensive overview of the different issues and target industries. Several speakers from MPEG gave their views and other organisations were invited to contribute to the definition of the scope. The work formally started during the June 2000 meeting in Geneva when news of the approval of the project by JTC1 arrived. I also sounded out Keith Brannon of ITTF, my usual interface with ISO, whether it was possible to get a "good-looking" 5-digit number for MPEG-21. To my surprise it turned out that 21000 was "free" and could be allocated to MPEG-21 which then became ISO/IEC 21000 Multimedia Framework. 
At the basis of MPEG-21 there is the notion of Digital Item (DI), defined as a structured digital object with a standard representation and identification. A typical example of a DI could be a music compilation containing (references to) the music files, photos of the singers and performers, videos of the best concerts, animated graphics, lyrics, scores and MIDI files. These can be described as "static" components of the DI, but there could be "dynamic", i.e. time-dependent components as well, such as real-time interviews with the singers, statements by opinion makers, ratings of an agency, position in the hit lists, etc. The DI, to be able to express its value to a ful extent, would contain navigational information possibly driven by user preferences, rights information to use content etc. 
The DI is the basic unit of transaction between two parties as shown in Fig. 2 .

Figure 2 – Digital Items and Users in MPEG-21
Depending on the conditions of purchase, rights to the "music compilation" DI might mean to be able to access up to 2 interviews for the next 2 months, while statements, ratings and positions could be made free for the next 15 days and cost a fixed amount of money thereafter. News related to the song, such as bargains – another dynamic component – could be provided for the next 6 months. 
In MPEG-21 "User" is any entity that interacts in the MPEG-21 environment or acts upon a DI. Therefore User is not just the "end-user", but anybody performing such roles of acting on content to create, provide, archive, rate, enhance, aggregate, deliver, syndicate, (retail) sell, consume, subscribe, regulate and many more, very much like in my MPEG-21 vision launched in Melbourne… And the MPEG-21 mission was eventually formulated as "Defining the technologies needed to support Users to create, exchange, access, consume, trade and otherwise manipulate Digital Items in an efficient, transparent and interoperable way".